Back in October last year, while attending the North America LIM in Philadelphia, we were all presented with a new PMI VISION: The Project Economy. Together with a lot of CHANGE, this new concept was presented in bright colors, interesting shapes and the entire auditorium got impressed. As part of a pilot program including 35 chapters around the world who went through the rebranding together, PMI Rio Grande do Sul Chapter already had a new logo, website, and social media ready for the unveiling taking place at the same time. The OUTCOMES of several months of hard work were presented to our community.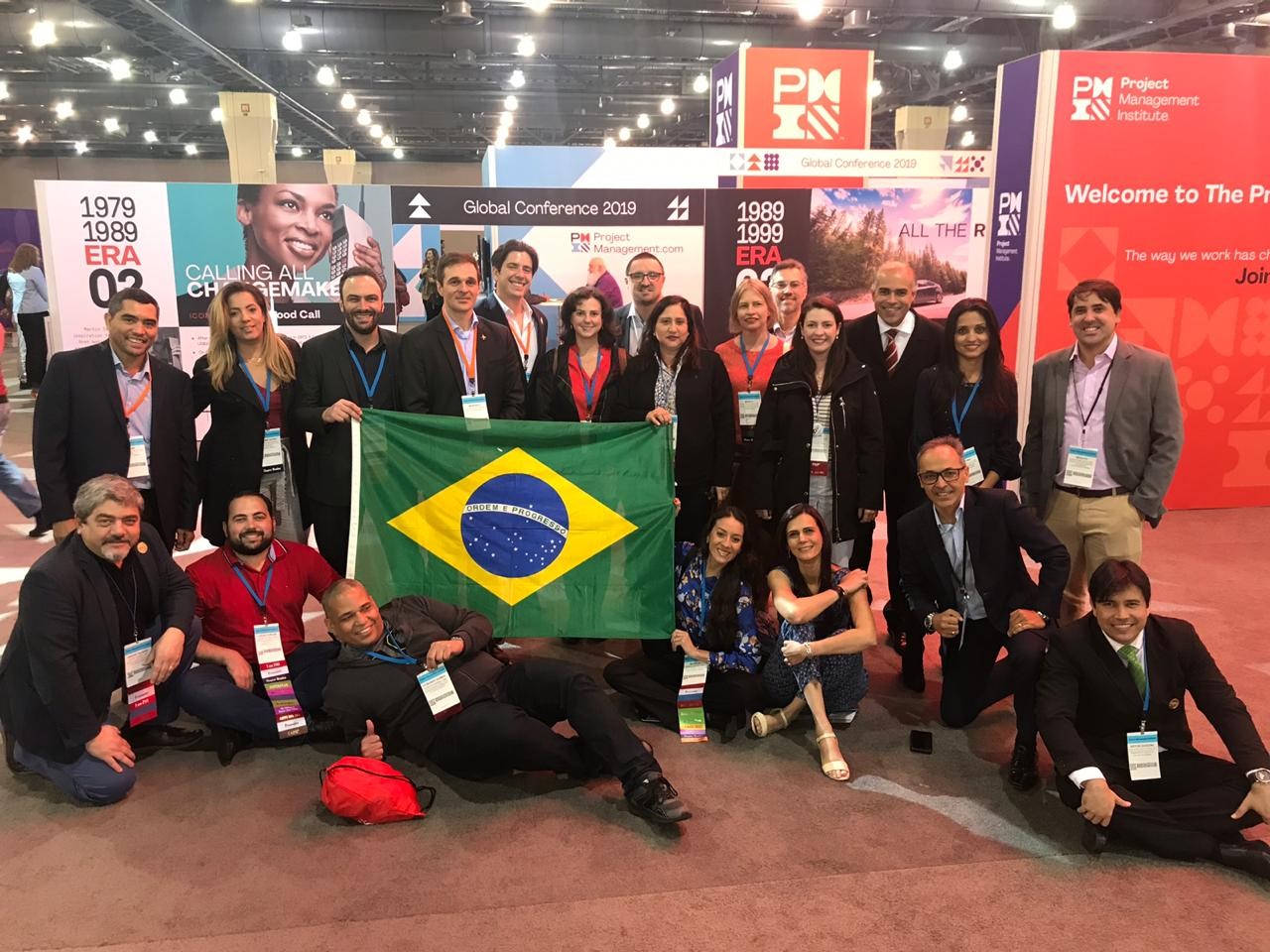 Picture – Brazilian Chapter representatives during the NA LIM in Philadelphia, in October 2019.
After coming back to Brazil, a new phase was about to start. We had several months to get used to the new logo, but our COMMUNITY was taken by surprise. There was a lot to explain and communicate. A detailed project was undergoing with the purpose of better delivering the right message to our community. We launched events about the "New PMI" and got a lot of curiosity and questions coming from attendees, whether it was virtually or face-to-face.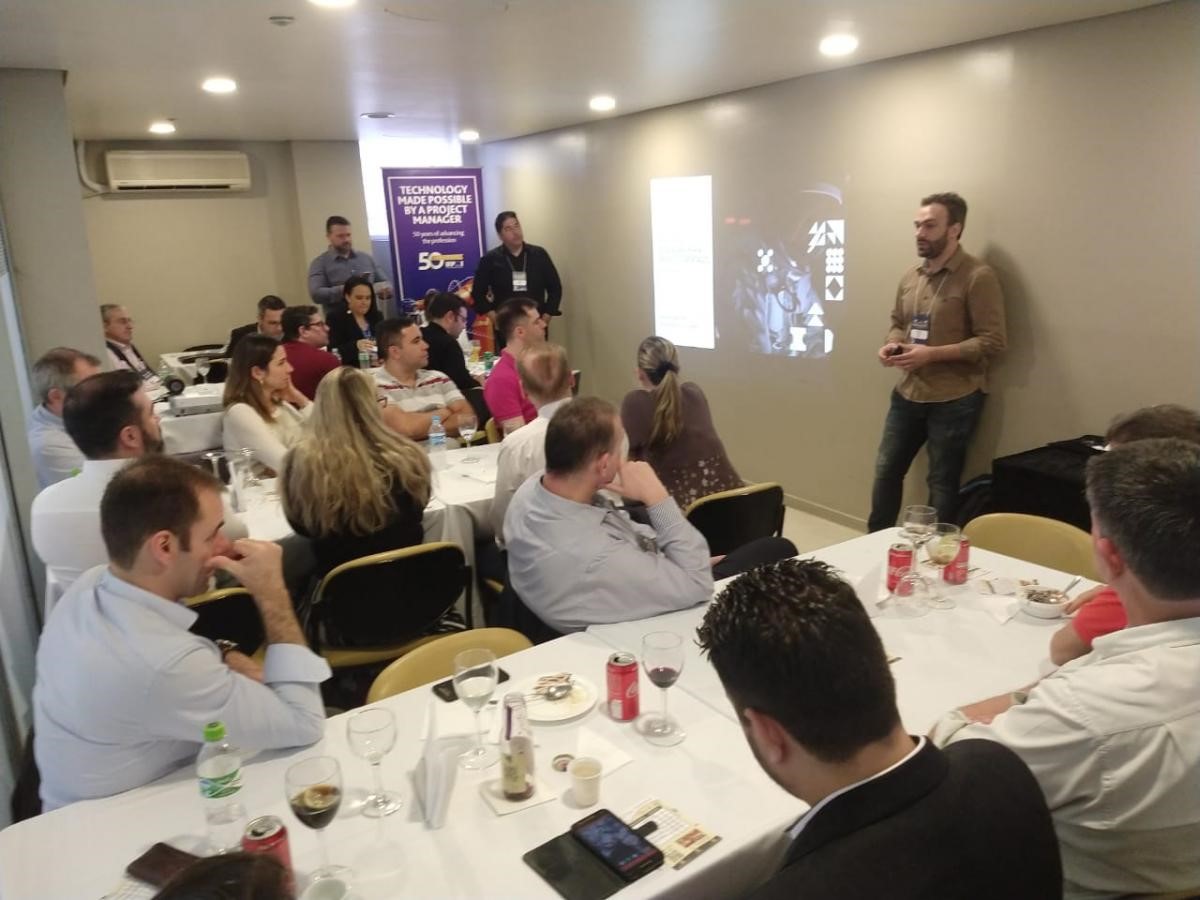 Picture – PMI Rio Grande do Sul Chapter Networking Lunch Event presenting the Project Economy.
The remaining Brazilian chapters would follow us shortly after. This motivated us all to work in COLLABORATION, as together we would be stronger and more effective in informing the community about all this exciting news. A small team was set up to plan how we could impact our region in a positive way. TEAMWORK played an essential role in suggesting the production of a series of videos for social media focusing on the Symbols of the Project Economy. The initial concept was planned, a pilot was filmed and edited, and all chapters involved voted and approved the model. Based on that, a Project Management Plan was created and distributed, and the project got its direct sponsors: every one of the 16 Brazilian chapter presidents.
THE SYMBOLS OF THE PROJECT ECONOMY – A 13-episode Brazilian PMI Chapters video series
Episodes – 13 (the nine symbols, the Letters, Philanthropy, and final episode)
Frequency – one video a week
Project Managers – Fernando Bartelle, PMIRS Chapter president and Lucas Furlan, PMIPR Chapter president
Chapter Interactions Facilitator – Alex Urbano, PMIDF Chapter Volunteer
Project Team – one volunteer from each chapter, preferentially the chapter leader of communications
To kick-off, each chapter got a couple of volunteers to help with making and editing the videos and being the focus people for distributing and posting each episode in the same day. A lot of DETERMINATION was necessary to keep the team engaged and the purpose clear for all. With project conclusion, we've created 13 episodes, with each video starring the president of a different chapter. The GROWTH in both chapter involvement and public interaction was notable with each new episode posted. The project team estimates over 30,000 interactions generated in chapters' social media put together, going along with the involvement of 26 volunteers from 12 different chapters. We've also reached a 100% effectiveness in deadline observance in video production and over 90% observance of video publication by chapters. Summing up over 120 hours of volunteer work so far, this results in a zero-cost initiative and a lot of INNOVATION.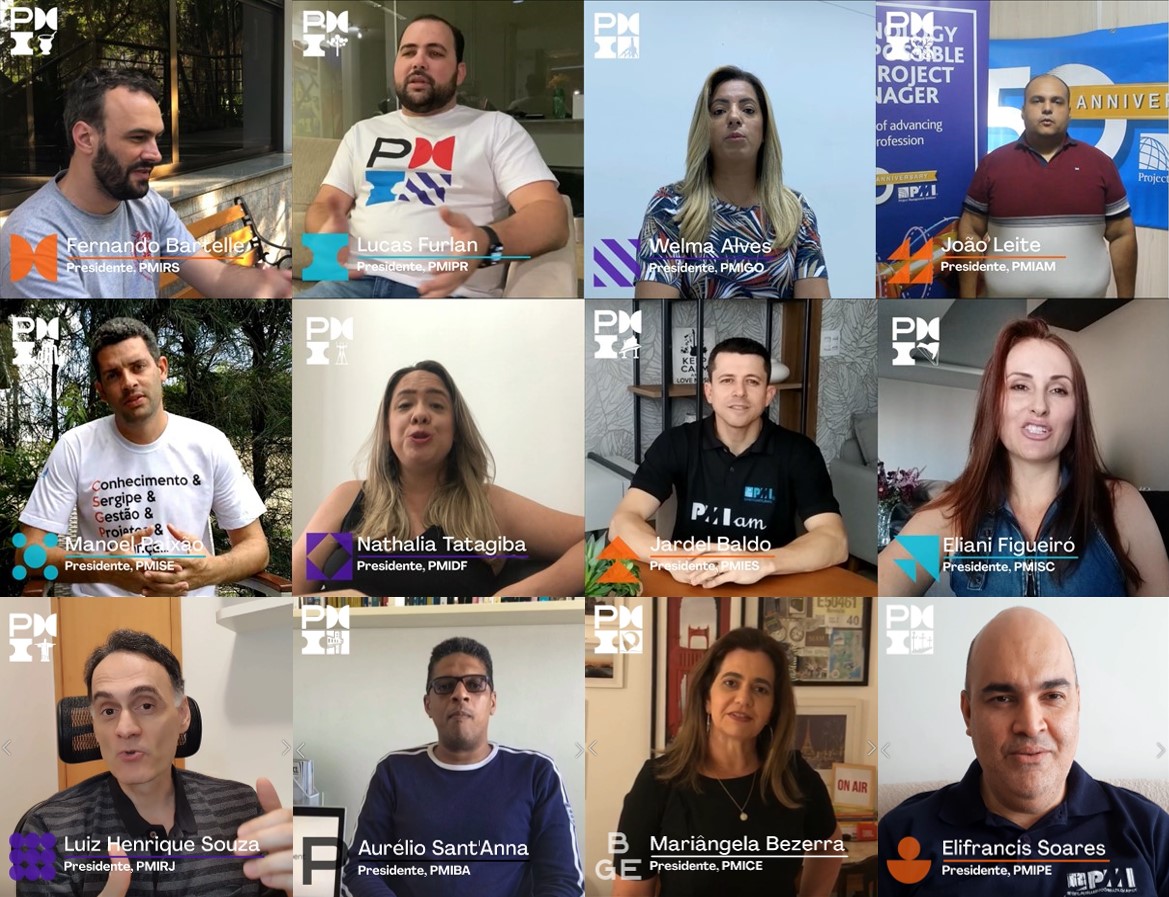 Picture – Twelve episodes of the video series
It is a project to be proud of, summarizing the most important aspects of the Project Economy as proven by the usage of the nine main words in this article.
We are PMI and we power the Project Economy!
Check out the entire series of videos at https://bit.ly/simboloseconomiadeprojetos
Data de publicação:
31 de julho de 2020